Total Wilderness
Canada's lakes are known for bountiful populations of large northern and walleye. North Spirit Lake, only accessible by plane, is where these species grow to trophy size. As one of only a few lucky fishermen you will experience the fight and fun of these magnificent creatures first hand in the almost virgin waters of North Spirit Lake, Lake Margot and Trout Lake.
To make sure that you are successful, we have the finest guides available in the Northern Canadian Wilderness.
Our cabins are built of rustic log in the northwoods style. Each one faces the lake with French windows offering a breathtaking view of the water. All are completely equipped with electric lights, hot and cold running water, oil heat, shower, flush toilet, lavatory and single beds. Sheets and warm blankets are supplied to keep you comfortable even on cool nights.
Our guests are also welcome to relax and mingle in our spacious main lodge sitting room.
Family Owned and Operated
North Spirit Lake Lodge has been owned and operated by the Nelson family since 1974. Your hosts are Bill and Valerie Nelson, owners of the lodge, accompanied by their children. Service to our guests is our primary focus and is a sincere honor. It begins the first time we have the pleasure of meeting you and continues even after you've boarded the plane for the trip home. Perhaps that's why we have a year-to-year return rate of nearly 75% and a 5-year return rate over 90%.
From our well maintained boats, motors, guide service, cabins, and support facilities, to the house- keeping staff and excellent meals prepared by our lodge cook (American plan), all efforts are aimed at making sure your visit exceeds all expectations. We invite you to please come and fish with us!
Trophy Fishing
North Spirit Lake Lodge is the only fishing resort on the entire lake system and only accessible by air. There are hundreds of square miles of pristine water made up of multiple lakes and rivers accessible to a maximum of only 28 guests per week. As a result, the fishing at North Spirit Lake Lodge for Walleye, Northern Pike and Lake Trout is excellent! North Spirit Lake Lodge is truly a trophy fish destination.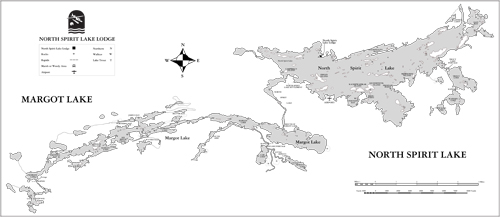 Guests at North Spirit Lake Lodge are blessed with sole access to multiple lakes. North Spirit Lake is 15 miles by 6 miles and dotted with islands.
Margot Lake is 18 miles by 1 mile with many bays and points. There are a number of more intimate portage lakes with NSLL boats on them. All lakes are excellent for Northern Pike and Walleye. Trout Lake has the added attraction of eye- and arm-popping Lake Trout action!
Owned and operated by the Nelson Family since 1974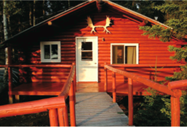 Trophy Fishing