2022 Season at NSLL
After a 2-year lull due to Covid, we are back and made the 2022 season one of our best ever. Mother nature threw us a curve ball with a late ice out and 3 feet of water over the high-water mark…. Yes, I said 3 feet over the high-water mark. This is an occurrence that happens in the north once every 50 years or so. Water that high with a few days of high winds took out 3 large sections of docks and made a mess out of the rest of stationary docks. This made it difficult to work out of the boat house, with 3 feet of water in it. We moved our floating docks around and made the best of the high water. Water levels receded to the high-water mark by the third week of June, and we proceeded to put our docks back together as time permitted though out the rest of the summer. On departure from camp, Sept 24th our dock repair was complete.
Hot Baits of 2022
I would have to say the bite was so aggressive that it was more of what the fishermen had confidence in using. The walleyes overall preferred a jig tipped with twister tail, Gulp, Power Bait, and a frozen minnow or night crawler. The pike like spoons and crank baits, and in some cases a jig while you're in walleye water. If I had 2 baits to go fishing with…. I'd have a Knuckle Ball 3/8 oz chrome jig for walleye and a 3 ½ in Lucky Strike Nickel Half Wave for pike.
Fishing Was Unbelievable
With the fish having two years off, the size and numbers were unbelievable. Walleye fishing through the summer hit totals of fish, caught per boat, like we have never seen before. Many Walleyes were boated 30 inches plus. Some fishermen had trouble catching the perfect 18 inch for their take home limit due to the average Walleyes running 19 to 24 inches. Norther Pike numbers were up also with many Pike over the 40-inch mark. Lake Trout fishing never really had a chance to prove itself. There seemed to be a Walleye distraction over at Trout Lake. A little idle time with the Trout, and it was off to try the Walleye spot. And in most cases the Walleye action superseded trying for Trout again.
Catch and Release Update 2022
Congratulations to the Pro Anglers that caught trophy Walleye 26 inch and over along with Northern Pike 40 inches and over. Wear your Pro Angler caps proud! Catch and Release Club T – Shirts were awarded for the release of trophy fish. 99 percent of these trophies were returned to be caught again another day. Thanks for making the Catch and Release system work. We will be awarding Pro Angler caps for catching trophies in 2023 with a catch and release pin of each species caught and released. One cap will be awarded for a trophy catch along with multiple pins for each species released.
2022 Camp Improvements
The extreme high water made extra work for us. We had to replace the airport dock and three big sections of our main dock. Along with that we shingled cabins 1, 2, 6, boathouse, fish house, and shore lunch shed. As usual general maintenance of walkway repair, railings, and painting. With supply issues a concern and a very busy season ahead we brought in 5 new 20 HP Yamaha 4 stroke outboards for the 2022 season. For the ice road in 2023 we have another Alumarine 20 Ft. Yukon boat ordered and will power it with a new 70 HP Yamaha. A new 450 Yamaha 4x4 ATV will take over for the Honda on the ramp to move baggage and camp supplies.
The Most Asked Question...
Though our years of operating NSLL we get the same question season after season….
When is the best time to come fishing?
Every month, week, and day is a bit different. We use our expertise of operating the Lodge for so many years to point you in the right direction. Late May and early June the fish are shallow. Moving water such as rivers and shallow bays are your best bet. And always play the wind. Windblown bays is where the feed ends up and the feeding frenzy is on. Mid way through June and into July we start to see weed growth and our focus turns to either fishing in the fresh cabbage or on the outside edge of the weed line. Once again, we play the wind, when we get to August and Sept. The weed beds congest, and mature fish will move to the rocky points in deeper water. At that time, we fish low and slow, and produce some of the lunkers we dream about. So, getting back to that question when is the best time to come fishing? Every day is a good day to fish at NSLL. Just at times, some are exceptional days of fishing.
Owned and operated by the Nelson Family since 1974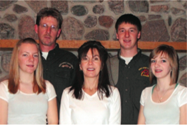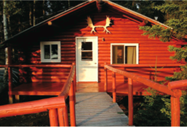 Trophy Fishing